Are you up for something new? Come join the pack!
Organisation
Wolfpack is a software company in Eindhoven. We work with 20-25 developers in teams on varying projects. For every client we compile a 'pack' of specialists with 3 to 8 wolves. Pack members continuously share their strategies, experience, and knowledge. This structure ensures a dynamic, highly intelligent, and flexible team. We can code in almost any coding language and support clients in solving their most challenging IT issues, like no other company can.
Growth
We only recruit the top 1% most ambitious and skilled IT-talents. Potential members are university-grade IT-specialists with relevant hands-on expertise but also more medior and senior developers that have a great track-record. We focus on your skills and we make sure you develop them further, while also encouraging new skills. We make sure there's room for your personal and professional growth. That guarantees delivering quality and a learning experience like no other.
Clients and projects
The use and development of computer technology is advancing at an exponential rate. We provide software development solutions to make businesses move forward in a continuously evolving market. We work for universities, health organizations and organizations like Total or Fair phone.
Every day is different with challenging projects between 1 to 6 months. We use, amongst others, .NET, PHP and Java. Aside from that, we have extensive experience in platform development within our constantly evolving technology stack like Laravel, Yii2, Vue.js, Nuxt and mobile development in Android, iOS and Flutter. We also work in close collaboration with our internal design/UX team.
LET US KNOW IF YOU'RE INTERESTED IN JOINING US!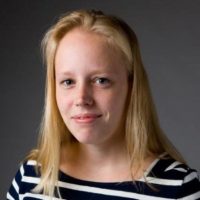 Leanne Scheepers
Take your time to look at our vacancies. Also, if you have questions, or if you are not sure which position fits best for you, you can always contact our Recruiter Leanne. You can write her a message and send it to join@wolfpackit.nl!